George and Barbara Bush Endowment
How It Began
In 1953, the Bushes lost their three-year-old daughter Robin to leukemia. Since that time, the Bushes have been devoted to helping those affected by cancer and actively supporting visionary cancer research. The former President and Mrs. Bush have been involved with MD Anderson Cancer Center since 1977 when they joined the Board of Visitors, the institution's volunteer advisory board. Mr. Bush served as chairman of the Board of Visitors from 2001 to 2003, never missing a meeting during his term.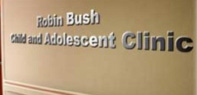 In June 2004, the Robin Bush Child and Adolescent Clinic at MD Anderson was named for the Bushes' daughter in recognition of the extraordinary generosity and commitment of George and Barbara Bush to the MD Anderson mission to eliminate cancer.
"It is an honor for MD Anderson to pay tribute to a child—and her family—who sparked such inspiration and commitment to eradicating this disease," says Eugenie Kleinerman, M.D., head of the Division of Pediatrics. "It takes great strength to come through losing a child, but to do so much for research that could save other children is truly courageous and uplifting to those families who are tested by cancer today."
Former President H. W. Bush's 80th Birthday Celebration
During a weekend-long celebration June 11-13, 2004, the Bush Forty-One Endowment Celebration attracted thousands of well-wishers to honor George H. W. Bush on his 80th birthday. The fundraising efforts leading up to the event exceeded the $50 million goal for the George and Barbara Bush Endowment for Innovative Cancer Research.
The Endowment Research Emphasis
The Bush Endowment focuses on funding cancer research at the molecular and genetic level, as well as other innovative MD Anderson research endeavors. Experience has shown that advancing molecular and genetic research leads directly to more effective options in cancer treatment and prevention. The initial grants awarded to gifted physicians and scientists gave them the means to launch new investigations and to successfully leverage their data into larger grants.